It takes me about 20 minutes to get to Bryn Mawr from home. Even with that close distance, I get homesick quite a bit. I see my friends who come from places far aw
ay like California and Chicago and often feel like I shouldn't feel so homesick. I mean, technically I could go home whenever I want-but let's be real. With all of the work that Bryn Mawr demands including exams, readings, problem sets, labs, etc. I have days where I can't even call home, let alone get home (there is no direct train by the way.)
It can be exasperating getting the "well you live so close by," or "you can go home whenever," comments. Yeah I could, but I can't. I came to college for the college experience. It isn't my fault that Bryn Mawr College is close to where I live. I didn't necessarily choose Bryn Mawr because of location (although I love Philly, and would hate to be elsewhere.) Truth be told, before coming to Bryn Mawr, I was getting ready to go to a school in Florida-a school that was 1,040 miles away.
There are definite pros to going to a school close to home. Getting home for breaks usually just depends  on when my parents can pick me up (again no direct trains to where I live). If I forget something at home/need something, I just need to coordinate with my parents to figure out how I could get it. But there are also a bunch of cons. I'm still in suburban Philadelphia. There isn't much of a scene change for me which is something that I wanted when searching for schools. And again, I get the comments and looks of "you live close by, why are you complaining?"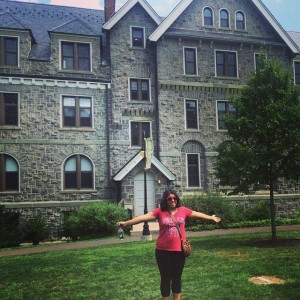 While I know how lucky I am to be going to a school close by, it doesn't make the homesickness just go away. I get days where all I want to do is go home, just like students who are very far away from home too.