This weekend was South Asian Student's (SAS) annual culture show. The theme this year was Dekh Magar Pyar Se, which in Hindi means ~loosely~ look, but look lovingly. As usual, the show was full of colorful clothes, fun Bollywood music, an energetic crowd, and of course delicious
 Indian food to follow.
Adding to the customary Bollywood dances and the Fashion Show finale, there were poems and a stand up routine. All in all it was a great time and I had only seen happy faces around (except for when we all waited in a very long line for the food!)
The show started off with the traditional welcome from the E-board- a video of what the theme means to them and their dance. Th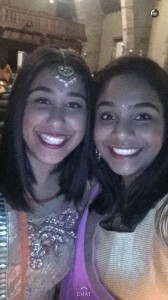 e show continued with various performances including the graduating seniors, the first years, Mayuri and Afreen. Rhea Manglani '17 recited a powerful and personal poetry and Sanya Aurora '16 performed funny yet personal stand up which got a rouse from the crowd. There were two guest performances, both from Penn. PENNach (dance group) and Penn Atma (female acapella group) also performed. (To end the show, the annual fashion show happened when students (including yours truly), walked from the back of Goodhart to the stage twirling (and not falling) on the way!
The night was freezing, but it was tons of fun and the food was great, but the company was even better! Congrats to the SAS E-board and performers for a wonderful culture show!