Last weekend, my friends and I spontaneously decided to go to New York…just because. We took the bus from 30th Street Station to SoHo and spent 14 hours in t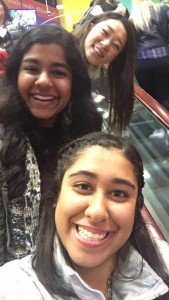 he city. It was super easy to get there, and I am amazed how quick and cheap it was to get to the city. Usually, when I go to New York with my family, we take the train which is efficient but expensive. We got our tickets for Bolt bus on the way there and Mega Bus on the way back, all together a $35 round trip (not counting the cost of Septa getting to 30th street and a Lyft back to Bryn Mawr.)
Our day consisted mainly of walking and eating-what else could one want? 🙂 We went to cool places like Laudrée for macrons and Dominique Ansel Bakery. We went to Halal Guys for lunch which was delicious! I spent the day with two friends, whom I didn't necessarily know super well, but I am very glad to say that we are now really great friends. I guess spending fourteen hours walking around New York City and eating does that. We managed to eventually get to Times Square and walk around the chaos there for a bit before taking the subway down to SoHo for dinner. We ate at this super cool Ramen place in SoHo where we met up with two other friends from Bryn Mawr.
Our bus back wasn't until really late at night so we explored New York City at night which was fun. Of course, we ate more (the Gelato at Fresco Gelateria was amazing!) and just talked. I ended up not only exploring New York, but made four new really great friends.
This was my first time getting really off campus in a very long time. Sometimes when you are so focused on school, and work, and just getting through the tough days at Bryn Mawr, it is difficult to remember that there is a world out there waiting to be explored. There are friends out there waiting to be met, and of course amazing food out there waiting to be eaten. So be spontaneous once in a while-you probably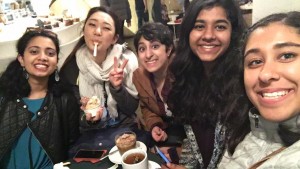 won't regret it!