The other day, I joined the Bryn Mawr College Class of 2020 page. As I began reading through the posts, I started fe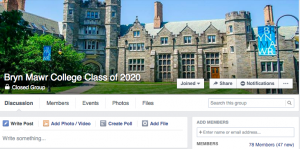 eling nostalgic and remembering the time when I was counting down the days to college, thinking of everything I would do, the people I would meet, and the things I would learn. Fast forward to second semester of sophomore year, and I still feel like I am waiting for those things to happen.
In high school, my days consisted of school-learning (obviously…I did get into Bryn Mawr) and staying after school nearly every day for orchestra practice, or planning events and fundraisers for student government. Almost every night (except for Friday and Sunday) consisted of dance, coming home around 10 each night. I would come home exhausted but fulfilled because I had a sense of who I was and what I was good at in high school. I was the vice president of my class, a dancer, a violinist, and a distinguished student. School administrators would ask me to help give tours of the school and I represented the student body at monthly school board meetings. In college, I only hoped that these few niches would be enriched and I hoped that I would add more to my description.
But as I scramble to finish problem sets and learn French vocab, I can't help but feel like I don't know who I am anymore, or even what I'm good at. I am not involved in SGA, I have not taken a dance class since first semester of my first year, I did not get a job as a tour guide, and I often feel confused and upset that I'm not nearly as involved as I once was. The only constant is that I'm in orchestra, and I'm sure my orchestra teacher since 4th grade would be happy about that. It is hard to go from being so involved, to barely attending a club meeting. Is it because I don't have as much time as I once did, or is it because I never truly loved those things? Honestly, I have no idea.
I ask myself the question "who are you," almost everyday, but I think that is something that everyone-even people who have long since graduated college-struggle with. As we grow, this question does not become as simple as it once was. Everything comes into play when you have to figure out who you are, especially in college. You talk about your major, your minor, your future goals, your job, the activities you are involved with. I feel like the only thing missing is your star sign and social security number.
So to incoming first year students, seniors about to graduate and others in between, I think it is okay not to have a niche. It can be frustrating, saddening, and confusing to not know who you truly are, or not know "what you're good at" (probably a lot of things by the way), but the great thing is that we are not limited to find ourselves at Bryn Mawr College or crunched to suddenly find it in only the four years we are here. Bryn Mawr is a great place to start the search, but it is not the final destination.
~"The greatest challenge in life is discovering who you are. The second greatest is being happy with what you find."~